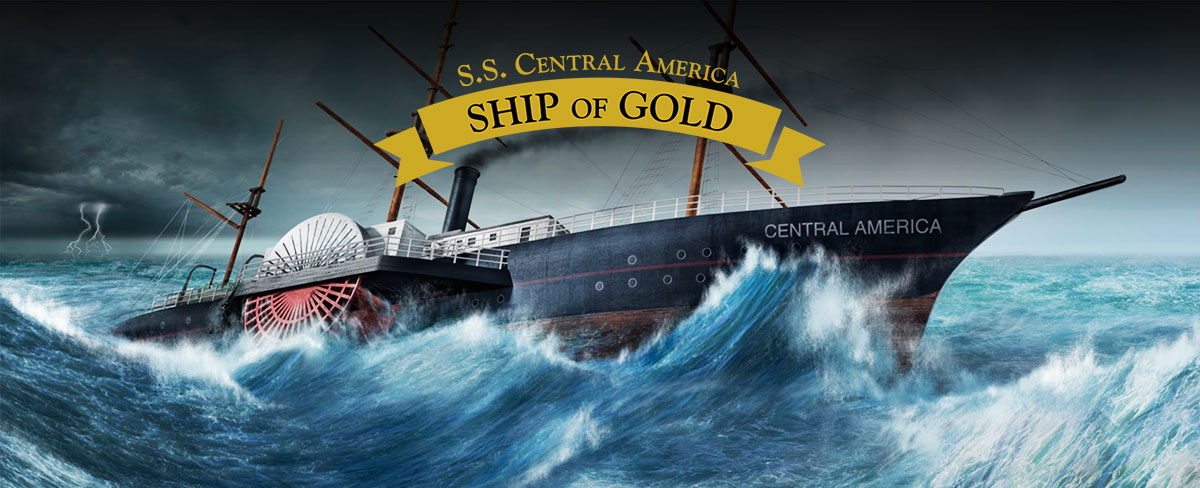 PCGS is Grading S.S. Central America
"Ship of Gold"

Coins!
The Exhibit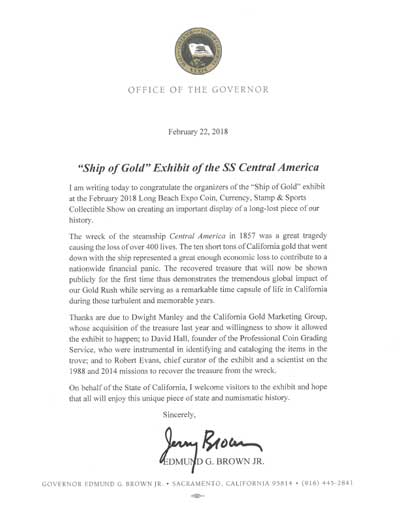 Ship of Gold Exhibit is proudly on display at the Long Beach Expo: Coin, Currency, Stamp & Sports Collectibles Show February 22-24, 2018.
California Governor, Jerry Brown, issued this letter praising the historical significance of this discovery and welcome's visitors to enjoy this unique exhibit.
Click Here for show location and details.
History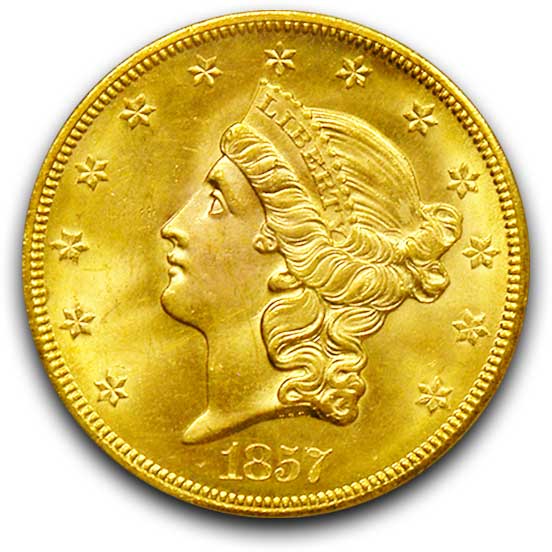 The S.S. Central America was a sidewheel steamer that operated between Central America and the eastern coastline of the United States during the 1850s. She was given the nickname "Ship of Gold" for her famous cargo: tons of gold from the San Francisco mint and various other gold coins, ingots, gold dust, and bullion obtained during the California Gold Rush. The sinking of the S.S. Central America in a hurricane on September 12, 1857 has been described as the greatest economic catastrophe in U.S. maritime history, contributing to the Panic of 1857 and leading to a severe recession.
Thousands of coins stuck predominately by the San Francisco Mint went down with the ship along with 425 passengers and crew, including the ship's captain, William Herndon. At the time of sinking, the amount of gold carried on board was valued at approximately $2,000,000. Today, that would be equivalent to roughly $300,000,000.
Over 7,000 gold coins were recovered from the S.S. Central America during the shipwreck's discovery in 1988, exactly 131 years after its last voyage. The S.S. Central America find serves as a unique time capsule of artifacts from a prosperous and significant time in United States history. California Gold Marketing Group (CGMG) is the owner of the second round of treasure recovered from the shipwreck in 2014.
Curation
The first batch of coins that was recovered and conserved was graded by PCGS in the late 1990s and consisted mostly of 1856-S and 1857-S $20 Liberties. The second batch consists of about 3,100 coins including additional 1857-S $20's as well as a wide variety of other coins such as $1 Gold pieces, $3 Gold, Quarter and Half Eagles, Eagles, and Territorial Gold. CGMG's Chief Scientist, Bob Evans, will be exclusively restoring the coins. After conservation, PCGS will be authenticating these almost-pristine pieces of numismatic history. Expected completion and release to the public is the Spring of 2018.
Want to be notified when the coins go on sale?
Please enter your email below.
Confirmation
Thank you for signing up for the PCGS Newsletter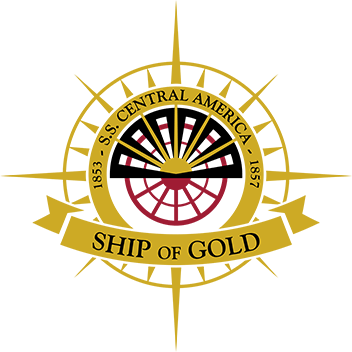 Proudly Graded by PCGS